We are pleased to announce our firm's 50th Anniversary in 2023!
For five decades, The Floyd Law Firm PC has earned a sterling reputation for putting their clients first and providing powerful legal counsel in an array of areas. With tailored advice and strategic representation, they have created strong bonds with clients while amassing the experience needed to guide them through any challenge—no matter how daunting.
Our legal team offers an experienced law practice that provides a wide variety of legal services to the community. Many of our clients over the years come to us as referrals after hearing about the quality of help that we offer.
We are proud of the reputation for excellence that we have worked so hard to build and humbled by the support and patronage we have experienced over the years. Our founding attorney, Dalton Floyd, Jr., has over 60 years of legal experience. Combined as a team, our firm has more than 100 years of knowledge in creating the solutions that people need when tough times are challenging them. Whether your situation involves a family matter, an estate, personal injury, or other legal concern – we are here for you.
---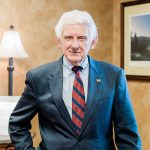 Our founder, Dalton B. Floyd Jr, graduated from the University of South Carolina and upon graduation, he received his commission from the U.S. Air Force. With intentions to become a pilot, he instead received a deferment to attend law school at USC. After earning his Juris Doctor and an L.L.B. cum laude, Dalton became a captain in the Judge Advocate General's office. His first and only posting was in Turkey, and after this military commitment ended, Dalton returned home to Lake City and joined another attorney in a law practice. He honed his skills as a litigator while also serving as an Assistant Solicitor for Florence County. In 1973 Mr. Floyd decided to move to the beach, establishing his new home and new practice in Surfside Beach (although he still maintained an office in Lake City for several more years).
Throughout the 1990s the client list steadily increased. Primarily practicing litigation, soon the firm transitioned to adding a corporate business model involving other matters such as commercial real estate, estate planning, and golf law. In the early 1980s, one of Mr. Floyd's clients was the president of the PGA of America, and Floyd began representing the Carolina Section of the PGA. The 1990s were the heyday for golf and he soon found himself giving seminars for the PGA of America, the National Golf Owners Association, and the National Superintendents Association. Dalton Floyd's expertise was in great demand, and his observations on the subject have been spotlighted in golf and legal publications as well as the New York Times and Forbes magazine, where he was quoted extensively as a leading authority on errant ball liability cases.
Mr. Floyd and his wife, Linda, successfully raised four children, three boys, and a girl – while also being active in giving back to their community. Mr. Floyd served on the South Carolina Education Commission for seven years, chairing it for five. His tenure on the Commission was so distinguished that Gov. Mark Sanford awarded him the "Order of the Palmetto", the state's highest honor for service.
---
Today, our firm is a team of 17 individuals, 8 of which are skilled Attorneys, all working towards the same goal – assisting our clients.
The Floyd Law Firm PC serves individuals, families, and businesses throughout the Grand Strand – from Myrtle Beach to Georgetown and the surrounding Pee Dee areas with professional legal services. We are committed to helping our clients and we work as a team when solving problems and protecting our client's interests. With more than 100 years of combined experience, our firm brings professionalism and advocacy with a focus on fostering long solid relationships within the community.