This month we commemorate the 30th work anniversary of Fanny H. Hall. She is a diligent Paralegal to Dalton B. Floyd, Jr. and the Mediation Coordinator for Floyd Mediation Group, LLC.
March 29th marks her actual employment anniversary, as she began working with us as a receptionist for the law office of Dalton B. Floyd, Jr. in 1988. Over the years that Fanny has worked for our law firm, there has been much change and growth. We are grateful that she has stuck it out with us for so long!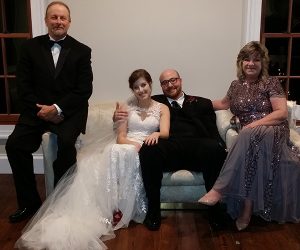 Born in Marion County, South Carolina, Fanny grew up in Galivants Ferry. As the youngest of six children, she learned how to speak up, and developed a keen sense of humor. Fanny currently resides in Murrells Inlet with her husband of 33 years, Frank. They have a wonderful daughter named Janie, and a son-in-law named Nick. In her free time, Fanny enjoys swimming, boating, and cooking lavish meals.
"Two women that made me who I am today, are my mom Jesma Housand who taught me how to clean and my mother-in-law Sandy Bellamy who taught me how to cook. I love to credit them with that, with a good-hearted chuckle. I miss them so much, may they rest in peace. In my early twenties, I started out as a receptionist and worked my way up through the years with Dalton B. Floyd, Jr. as my mentor. Approximately seven years later, I shortly pursued another avenue which ended in tragedy, but it led me back to The Floyd Law Firm. Now, as I'm approaching my 30th year with the firm, I feel so blessed and proud. Over the years, I have made many friends and have a long history with our clients, for which I am thankful. I treasure my experiences over the years at the firm and I look forward to the future with my Floyd Law Firm family."
All of us here at The Floyd Law Firm are happy to congratulate Fanny on her 30 year work anniversary. She, along with the rest of our staff, is here to help individuals, families, and business owners to make informed legal decisions with advice from seasoned advocates. Providing experienced legal counsel and practical solutions to a wide variety of legal concerns, we work together to protect our client's rights in and out of the courtroom.