In early 2019, construction was recently completed on the new barn and associated pastures at Brookgreen Gardens' "The Floyd Family Farm" Exhibit. Brookgreen Gardens, in Murrells Inlet, South Carolina, was founded in 1931 and became the sculptural botanical gardens that everyone loves – with a cultural center, exhibitions, and special events throughout the year. In later years, animal exhibits were added, with many of the animals being local rescued wildlife to be cared for and visually enjoyed for educational outreach. What is presently known as Brookgreen Gardens used to be a rice plantation, and over 200 enslaved people lived and worked on the land. Dalton and Linda Floyd, and the Floyd family, have generously funded the new informative exhibit of farm animals. The Floyd Family Farm Exhibit was designed and curated to show visitors what the original animals of the plantation may have looked like – as besides from rice, the area was also farmland for animals of many kinds.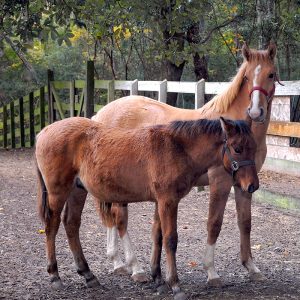 Back in the 1800's, the animals were what we now refer to as "heritage breeds", because they had not been genetically manipulated like the animals on the factory farms of today. The Red Devon Cows, Dominique Chickens, Tunis Sheep, Spanish Goats, and March Tacky Horses are compassionately cared for on the Brookgreen grounds – and visitors can admire them, look into their eyes, and observe their gentle existence on the natural landscape. While these types of animals were raised in the past to be killed for human consumption, the animals of this exhibit will never know harm.
Brookgreen Gardens is a National Historic Landmark and listed on the National Register of Historic Places. It is part of the South Carolina National Heritage Corridor and the Eastern South Carolina Heritage Region. To learn more and to plan your next trip to the gardens, visit their website for touring hours and special events.