On October 21st, our firm's founder, Dalton B. Floyd, Jr was awarded the 2022 John S. Rainey Philanthropy Award by The Huntington Society of Brookgreen Gardens. The award is named in honor of philanthropist and advocate, John Stringer Rainey (1941-2015). Established in 2017, this award recognizes individuals who have demonstrated outstanding philanthropic commitment to Brookgreen Gardens and who exemplify the leadership and ideals of the award's namesake.
Mr. Floyd has been a Trustee of the gardens since 2003, and he served as President of The Huntington Society from 2006 to 2008. He and his wife have been long-time supporters and caring patrons of the gardens. Many wonderful public exhibits and events are held at Brookgreen Gardens each year, and it has been a staple attraction for residents and visitors alike.
A dinner for the event was held by The Huntington Society of Brookgreen Gardens on Friday, October 21, 2022 at the Leonard Pavilion of Brookgreen Gardens in Murrells Inlet, South Carolina. Upon acceptance of the award, Mr. Floyd expressed his deep gratitude and his love of giving back.
"Giving back was a strong ethic gifted to me by my father. It has been my aim to share my blessings with others, and I am fortunate and happy to be able to do so."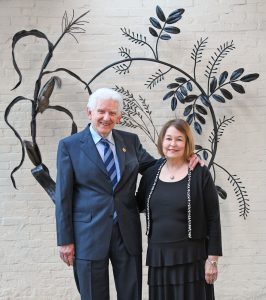 In the early 2000's, the Floyd family sponsored Bethea's Garden, an herb and vegetable garden adjacent to the Wall Lowcountry Center at Brookgreen Gardens. Sponsored in honor of Linda Floyd's Father and Mother – as what is presently known as Brookgreen Gardens used to be a rice plantation – growing edible plants on the site makes perfect sense. In early 2019, the Floyd family generously funded the informative exhibit of farm animals. The Floyd Family Farm Exhibit was designed and curated to show visitors what the original animals of area farms may have looked like – as besides from rice, the area was also farmland for animals of many kinds. The animals in this exhibit are now considered "historic rare breeds" and are much more like animals of the 1800s than the hybrid descendants of today.
Since 1932, the 9,100-acre property of Brookgreen Gardens has been a wonderful sculpture garden and wildlife preserve, located just south of Murrells Inlet. The gardens showcase several themed gardens featuring American figurative sculptures, the Lowcountry Zoo, and pleasant trails that wind through several ecosystems in the nature reserves on the property.
Local residents and visitors enjoy the art exhibits, the garden tours, and other special events at Brookgreen. We hope that it remains to be enjoyed by generations to come.
Learn More:
Brookgreen Gardens on Wikipedia
Brookgreen Gardens: Domestic Animals Program for Educational History