Originally published March 8, 2020. Updated May 2, 2022.
Linda Floyd is a businesswoman, a wife, a mother, a sister, a volunteer – and she is a grateful and humbled cancer survivor. Having been diagnosed with endometrial cancer in 2007, Linda has since been in remission and has remained cautious, yet active, in learning more and sharing her knowledge with other women fighting and surviving cancer. A native of Lake City, South Carolina, Linda has lived in Murrells Inlet for the past 48 years with her husband, Dalton, and two rescue labs, Cam and Enzo.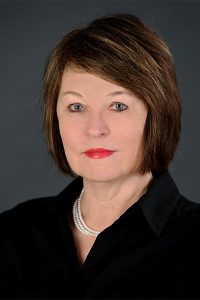 Today, Mrs. Floyd is still heavily involved in her community. Her work includes a mentoring program at Coastal Carolina University for elementary students in Horry and Georgetown counties. The Dalton and Linda Floyd Family Mentoring Program provides an opportunity for college students to serve as role models for children (K-8) in area schools. The Dalton and Linda Floyd College Readiness Program is another community endeavor and education-related initiative that provides college students with the opportunity to help high school students by acting as their guides and role models – to prepare the younger students towards post-secondary education. For 14 years, Linda was passionately involved on a state committee for Safety on College campuses, sponsored by the South Carolina Higher Education Foundation, where she addressed campus safety for all facets of campus life. She currently serves on the Hollings Cancer Center Advisory Board and focuses on the fight against cancer by providing information that can help women and others be mindful and knowledgeable about the disease.
Since 2015, the "One-in-Three Afternoon Tea – Annual Linda Floyd Forum on Women's Cancers" has been held in early May by the MUSC Hollings Cancer Center. Typically held at Founders Hall in Charleston, this year will be the 6th year of the event – which is an occasion for women to share, learn, and engage in dialogue with others over afternoon tea. Experts lead discussions and answer questions on the latest news and discoveries in cancer prevention, screening, treatment, and research for women's cancers. This event is free thanks to the generosity of Linda and Dalton Floyd, and the wonderful group of forum committee members. Sponsors often help, as well as some vendors with pop-up shops featuring breast cancer awareness jewelry, clothing, and more. Building upon the knowledge that one in three women will be diagnosed with cancer, women who wish to attend are encouraged to bring two friends to each event.
As South Carolina's only National Cancer Institute-designated center, Hollings Cancer Center at the Medical University of South Carolina offers the most comprehensive care in the state. Hollings has earned accreditation and recognition nationally in a variety of specialties, including melanoma, breast cancer and oncology nursing. The center remains committed to early detection and community awareness through partnerships, outreach events and a mobile-health screening unit. In addition, Hollings offers over 200 clinical trials to provide the most innovative and groundbreaking treatment options for every patient.