Holiday celebrations in the United States are often joyful and boisterous. Some celebrations have led to the traditions in which fireworks are included, such as New Year's Eve and Independence Day. The peak of the displays occurs on July 4th in relation to Independence Day. Often both legal and illegal fireworks and firecrackers make noise and lights for hours if not days.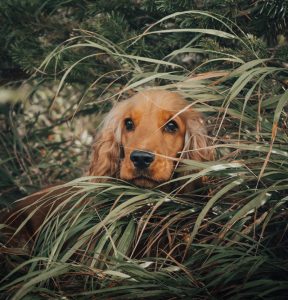 For animals with noise phobias, this holiday can be terrifying, as they cannot control their reactions to the loud and unpredictable fireworks, a spokesperson for The Humane Society had stated.
Wild animals, companion animals, and farm animals have become terrified, spooked, injured, lost, or even killed due to fireworks displays taking place. Animals of all kinds risk injury or death as they frantically run from the frightening sounds. Pets can become so scared that they get loose and flee from the safety of their homes to seek refuge from the noises.
Horribly, over the years, there have been reports of pet dogs have died due to their intense fear brought on by fireworks. A dog's ears are for listening more acutely than human ears can. While humans can only hear about 20,000hz, the majority of dogs can hear up to 60,000hz. Fireworks and their loud sounds arrive without warning, triggering a dog's startle response – resulting in acute anxiety and fear due to a situation that they can't easily understand.
Other animals kept as pets face the same ill effects as cats and dogs – birds, hamsters, guinea pigs, and rabbits have been documented showing fear and stress responses during the sounds and sights of fireworks displays. There have been numerous reports of horses being fatally injured after being "spooked" by fireworks, and cows have been known to stampede after experiencing loud and frightening sounds.
The days following the Fourth of July are often some of the busiest for stray pet intake at animal shelters and animal welfare organizations across the country. Shelters are always flooded after the Fourth of July holiday with pets who run away scared because of fireworks and loud parties. This causes additional problems, not least of which is the fact that some animals are never returned to their families or reunited with their guardians.
Wildlife such as small woodland animals and birds also experience an upheaval during the chaos of firecrackers being used. The U.S. Fish and Wildlife Service noted that abrupt lights and sounds are often seen as a threat by nesting bald eagles, and great blue herons and other colonial nesting birds are easily startled to becoming lost or injured.
Tips for pet owners and animal caretakers for keeping animals safe this July 4th include:
Keep your pets safe and secure at home. Besides noise phobias, fireworks can cause burns or other serious injuries to curious pets outdoors. Many people simply choose to stay home and enjoy time with their companion animals.
Ensure that animals have current licenses, updated identification tags on their collars, or correct microchip information on file.
If you have to leave your pets, take them out for a nice walk or playtime to express their energy and go potty.
If you are home and need to take them out while fireworks are happening, use a leash and keep them close to you.
Provide animals an indoor space that helps them feel safe and play some calming music for them. If they have a familiar crate or a special spot they love to snuggle in – allow them to have access to it.
Make sure your animals have fresh water and their favorite toys or blankets.
Keep your garden hose handy if fireworks are near your neighborhood and may come down on your roof or building.
If there is debris from fireworks in your yard, don't let your dog get a hold of them as there may be chemicals that are toxic.
Monitor your cat's or dog's or other pet's behavior for signs of panic and noise phobia. Drooling a lot, shaking, trembling, hiding, whining, barking, and loss of bladder control are all signs of distress.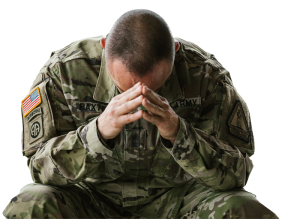 A lot of humans are agitated by fireworks as well. People with post-traumatic stress disorder (PTSD), those with autism or similar sensory challenges, and those with underlying health conditions deserve consideration. Military Veterans, children, gun violence survivors, wildlife, and pets can be negatively affected by loud erratic sounds.
Fireworks have environmental and public health impacts that are rarely discussed and the litter left behind can be detrimental. Particulate matter and toxins are released that adversely affect water and air quality. The risks posed by possibly igniting wildfires are of particular concern in or near wooded areas, grasslands, and any areas withstanding dry conditions.
Can taking Legal Action help?
Criminal statutes vary state-by-state when it comes to animal welfare, animal cruelty, fire, and litter. The standard for animal cruelty statutes mostly involves inflicting pain, causing suffering, or causing death.
The intentional infliction of distress via fireworks may meet certain legal standards in regard to harm.
A Fulton County, Georgia, a man made national headlines in 2016 when he was charged with animal cruelty. He had posted a video showing him shooting off fireworks near his obviously terrified dog, a 4-year-old Husky. The alleged offender claimed he did not know that the dog was nearby, but it was apparent that was not true.
Even if neighbors insist on setting off fireworks despite being told about the anxiety inflicted on one's animals, there may still be an opportunity for a successful noise complaint in certain jurisdictions.
Noise ordinances typically identify factors for determining if a noise constitutes a disturbance. If the noise disturbs a person of normal sensibilities, if noise exceeds decibel levels specified, if the noise continues past a certain time, or the noise is plainly audible at a distance – then there may be a case. It may be a difficult standard to apply overall to animals and fireworks, and one can hope that common decency and consideration would prevent the occurrence in the first place.
The debris from fireworks can harm wildlife and litter water sources and residential yards and buildings. Those who have backyard pools contaminated with firework litter definitely find the mess irritating and annoying. In some states, there are laws regarding littering – so keep detailed notes on who, what, and when fireworks are set off in your area. Not only are neighborhood fireworks the cause of a lot of litter and debris, but the resulting debris can also harm local birds, mammals, and aquatic life.
Injuries and Fires
Consumer fireworks are legal in 49 states in some form, according to the American Pyrotechnics Association. In the month around the 4th of July holiday, an average of 180 people go to the emergency room every day with fireworks-related injuries, according to the United States Consumer Safety Commission. More than half (57%) of the injuries are burns.
Homeowners' insurance covers damages such as caused by house fires, but with fireworks, there could be some issues based on your state and the legality of fireworks. If someone is lighting fireworks that are legal in the state and an accident happens, coverage under a homeowners insurance policy may help. However, in instances of setting off illegal fireworks, an insurance policy will probably exclude accidents that are caused by illegal acts. In cases in which one's car or truck becomes marked or damaged by fireworks, the owner's car insurance company should be notified quickly and photos and notes were taken as soon as the damage is found.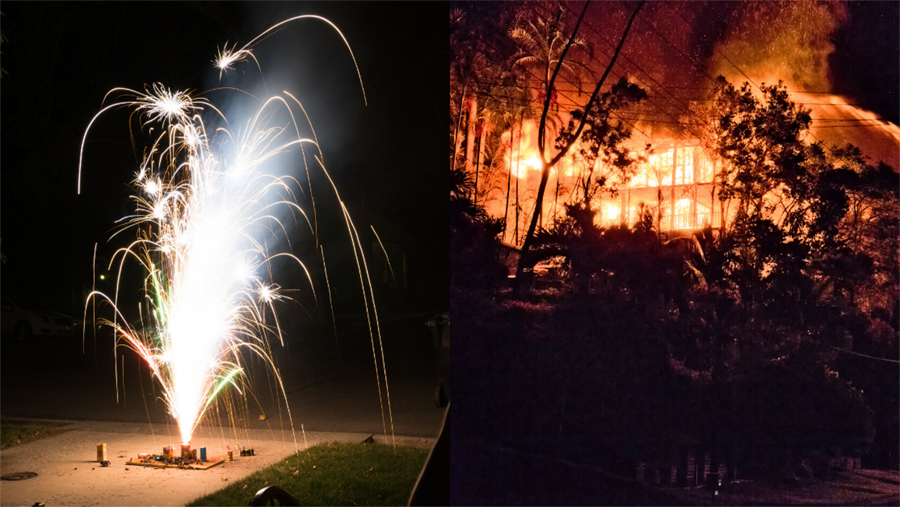 According to the National Fire Protection Association, an estimated 19,500 fires started by fireworks were reported to local US fire departments in 2018. These fires caused five civilian deaths, 46 civilian injuries, and $105 million in direct property damage. More than 28 percent of fires started by fireworks between 2014 and 2018 were reported on the Fourth of July.
While there are what are called "silent fireworks", many in the pyrotechnic business say that they do not do well for large shows. They still make explosive sounds, just at a lower level and not as high in the sky or as grand. What can be high in the sky and quite grand are drone shows. As the technology built into drones evolves, they'll become even more capable of replacing fireworks displays on a large scale. In fact, many large arenas, and communities around Colorado, California, and Nevada have opted for spectacular drone shows in recent years.
Until silent fireworks make it to your town, you can take steps to protect your animals. Talk to your neighbors ahead of time so that at least you can proactively minimize any anxiety. Also, follow the guidelines from the American Veterinary Medical Association to keep animals safe on Independence Day. Secure your yard and pasture fences so that animals can't bolt. Make sure pets are microchipped and wearing identification. For pets left at home alone, double-check that they have plenty of drinking water and consider leaving on some soothing music.
At The Floyd Law Firm PC, we are committed to helping those who have had a companion animal injured due to someone's negligence, or cases in which cruelty has occurred, or many other events related to animals. We know the challenges that people face in such situations and we understand – our firm can address your specific problem with empathy and professionalism. If your property or vehicle is damaged due to the actions of negligence, contact us for a consultation. We love our community and hope to see each member, with fur or without, treated fairly and compassionately.
Learn More
American Veterinary Medical Association: Guidelines to keep animals safe on Independence Day
Animal Law: Legal practice that covers issues involving animals
The Animal Legal Defense Fund: Animals Suffer for Fireworks; More Localities Are Implementing Bans
Nova Sky Stories, formerly Intel Drone Light Show
The official drone light show partner for the Olympic Games Tokyo 2020 that has completed over 1,000 displays in more than 23 countries across six continents – with a safety record that is trusted by aviation administrations around the world.
Directory of state fireworks laws from the American Pyrotechnics Association
National Fire Protection Association Fires and Injuries Report
Each year, fireworks injure thousands and cause thousands of fires. This report provides a summary of these incidents.