In September, 2021, our own Dalton B. Floyd, Jr made an appearance in The National Law Journal listed as one of the Top Rated Lawyers for the 2021 edition of the Martindale-Hubbell® Peer Review Ratings™.
Having many outstanding "Judicial & Peer AV Rating™" by Martindale-Hubbell® and "Peer Rated for Highest Level of Professional Excellence" ratings, Mr. Floyd is passionate about his law practice, his family, his pets, charitable endeavors, and golf.
Established in 1973, The Floyd Law Firm is your complete source for almost all types of legal work. Our team of attorneys has the knowledge and experience to ensure that you, your family, or your business receive some of the best legal guidance the Grand Strand has to offer.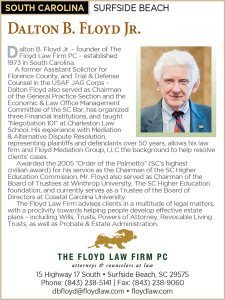 ---
Martindale-Hubbell® Peer Review Ratings™, the gold standard in attorney ratings, have recognized lawyers for their strong legal ability and high ethical standards for more than a century. Attorneys looking to refer a client, as well as individuals researching lawyers for their own legal needs, use these ratings to identify, evaluate and select the most appropriate lawyer for their legal issue.

"For more than 130 years, Martindale-Hubbell has been evaluating attorneys for their strong legal ability and high ethical standards through a Peer Review Rating system. Prior to the 1887 edition of Martindale's American Law Directory, which was the first publication to provide such ratings to attorneys, there was no way of truly knowing if the lawyer you were considering to do business with was trustworthy, ethical, or skilled in the legal field.

Today, Martindale-Hubbell® continues to provide verified ratings for attorneys based not only on their legal ability and ethical standards as judged by their peers, but also based on reviews from their clients. While the criteria and format of the Peer Review Rating system has evolved since the 1800's – the goal of Martindale-Hubbell ratings remains the same: to help keep the public informed when making the decision to do business with an attorney or law firm."