It is not unknown that the Floyd family have been charitable over the years, and that their generosity supports a variety of causes in the area communities.
Mr. Dalton Floyd Jr. had once said that it was his father whom he saw as one who always wanted to help people and give back – and that it is what helped to put himself on the path of wanting to help people and to give back as well.
Since 2004, the Dalton and Linda Floyd Family Mentoring Program at Coastal Carolina University has led to over 4500 undergraduate students helping to mentor and guide primarily fourth and fifth graders in and around Horry and Georgetown counties.
"We were focused on helping the children, but what happened is that it helped the college students as well. It's a win-win. Many of the undergraduate students have told us that mentoring has meant as much to them as anything else they have done in college."
The wonderful educational programs continue, and have expanded to more areas of South Carolina as well. The Dalton and Linda Floyd College Readiness Program is another community endeavor and education-related initiative that provides college students with the opportunity to help high school students by acting as their guides and role models – to prepare the younger students towards post-secondary education.
The latest program has been introduced at Winthrop University in Rock Hill, South Carolina where those that sign up and qualify can help high school students prepare for college. Selected students from South Pointe High School, the third and newest high school in Rock Hill, will have a chance to be kindly guided by a university student in a mutually beneficial mentoring program.
The program's goals are to provide opportunities for college students to build their leadership and mentoring skills as well as to give guidance and encouragement to high school students who might feel like college is not an option for them, or for those that may just need a bit of extra help making the transition from high school to college.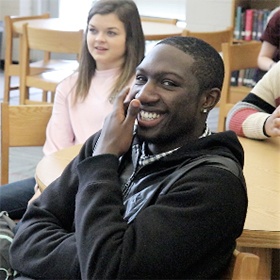 Those selected to become Floyd College Readiness Leaders (CRLs), will proceed to mentor the younger students by serving as role models and guides. They will answer the questions and provide their experiences in the areas of college participation and future career readiness. The university students are provided with training on how to best mentor and guide the high school student(s) and they will collaborate towards developing curriculum to help the mentee(s) and lead discussion groups. Floyd College Readiness Leaders (CRLs) will also assist in hosting the high school students during the Floyd Day on Campus event each semester.
From the issue of campus violence – in which the Floyd's spearheaded the first annual campus safety forum in 1998 for all the state's institutions of higher learning, both public and private – to the educational mentoring programs, Mr. and Mrs. Floyd have sure been the busy and compassionate citizens that their friends, family members, business associates, and neighbors greatly appreciate.