The most thought out and carefully assembled financial plans can still unfortunately be found lacking once big life changes occur. Devastating changes can happen at the worst time, and currently we are all not only faced with global issues such as climate change and the wild weather it brings, but also deadly pandemics and social unrest.
Many seniors today may feel as though they are alone and struggling. We need to let them all know that they are not alone and help to support more area services and community efforts in reaching out to our elderly neighbors.
Many people are still not fully recovered from the last recession that may have caused them to lose much of their savings, or even their home. Perhaps an unexpected medical or dental problem cost them a lot, or maybe the job they were using to supplement Social Security checks went away when the coronavirus pandemic hit. Losing a loved one, divorce, widowhood, major home repairs, fraudulent scams, and stock market losses are some other things that could have also occurred. Unfortunately, there are too many events that have harmed people financially in retirement, and the ability to regain some financial security can seem daunting.
The period of one's retirement is supposed to be when each of us can enjoy our lives and do things that bring joy. But despite the decades spent working hard and saving up—many seniors had unexpected life events that derailed their finances.
Seniors may face more financial challenges, but there are some proactive steps that anyone can take to regain some financial relief and safeguard their existing finances.
Clearly document your financial situation
Make a list that totals all of your liabilities and assets. Having a clear report of all of your debt, the amounts owed, interest amounts, and the repayment terms for each. Credit card debt is an important factor as the average credit card debt for those aged 65 to 74 can average around $5,000.
Work closely with your family, spouse, or partner
A personal loan or credit card that you may have signed up for without your partner's knowledge might not be such a good idea because each of you are accumulating debt without the other knowing. Collectively you could end up with double the amount to have to pay down. In 2019, several academic studies had estimated that up to 41% of American adults admitted to hiding accounts, debts, or spending habits from their spouse or partner.
Make time to analyze your income and your spending
Compose a list of all household monthly expenses, including fixed amounts and estimate the variable expenses such as groceries and electric use. Also consider any annual, biannual, quarterly, or other expenses such as interest payments, insurance payments, and property tax payments.
Think about costs that fluctuate seasonally such as utility bills during cold winters or hot summers. If you have car insurance payments, there may be savings if you can pay yearly. Try to estimate any doctor or dentist visits and calculate for how much visits typically cost, as well as any regular prescription refills that are necessary. Remember to factor in any car payments, mortgages, phone bills, internet, or cable bills also.
Plan for an emergency fund while creating your budget
When your average monthly spending amounts are estimated, you can use this information to adjust for everyday needs such as food, gas, pet supplies, cleaning products, and clothing. Any amounts left over from all the expenses can then be set aside into an emergency fund or savings account. It can seem daunting, but even small amounts saved can add up over time. If you can save up to at least 3 months of regular expense coverage, then you may add an amount for a future wish item, home improvement, or a little vacation.
Keep an eye on your credit score
A lot does depend on one's credit score and working towards improving your rating can help you be better prepared down the road. Whether you intend on applying for a loan or not, closely monitoring your credit can help to alert you to issues and any incidences of fraud or identity theft if someone were to try and obtain credit cards or funds in your name.
Regulated by the Fair Credit Reporting Act (FCRA) and monitored by the Federal Trade Commission (FTC), the three main credit reporting agencies or bureaus are Equifax, Experian, and TransUnion. These agencies each compete to capture, update, and store credit histories for most consumers in the United States. The information on your credit report is supplied by lenders such as banks and credit cards, collection agencies, and court records.
Your credit rating has the ability to affect housing prospects, employment opportunities, and the interest rates offered to you from credit cards and other lenders. Free annual credit reports can be obtained via the internet, by phone, or by mail. Many banking institutions may also update your credit score monthly on your account for no extra charge.
Sources of economic aid are available to eligible seniors, and there are also programs for those who have not reached retirement age as well. Look for any possible avenues of financial recovery and assistance.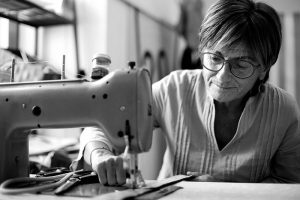 Avoid taking on more debt
Renegotiate major expenses, including credit card interest rates
Save coupons and look for discounts
Track all banking and review bank statements
Avoid marketers and junk mail to decrease the urge to spend
Refinance your mortgage when rates are low
Seek out tax credits and benefits programs
Homeowner residential energy credits
Prepare an Estate Plan or Will and name a backup person
If working from home use the home office deduction
Apply for Social Security retirement benefits if at least 62 years old
Examine a home equity loan or a reverse mortgage
Consider renting out a room or having roommates
Look into foreclosure or bankruptcy as a last resort
Protecting your finances and making prudent financial decisions as a citizen of any age is important. Talk to a credit counselor, financial advisor, or an attorney to weigh your options when the financial worries feel overwhelming. There are government agencies and non-profit advocacy groups that may provide needed help. Managing your money and improving your quality of life can take time, patience, and determination.
An effective estate plan can include a Will, trusts, powers of attorney for healthcare and property decisions, and advance health directives such as living Wills and healthcare proxy. Many clients can also request Medicaid Planning advice to help in lessening the economic impact of long-term care. The cost of elder care over many years can often be catastrophic for elderly, middle-class individuals and couples.
Our attorneys are sensitive to your needs for proper planning. Insurance forms, medical bills, explanation of benefits forms (EOBs), can all become overwhelming and intimidating. The Floyd Law Firm PC is your resource for Estate Planning, Wills & Trusts serving Surfside Beach, Myrtle Beach, and throughout South Carolina. We are committed to helping individuals and families with compassion and professionalism—please do not hesitate to Contact Us.